Online Safety
It is so important to stay safe online!
Computers play a big part in children's lives today and there are so many different devices that allow easy access to the internet: iPads, mobile phones, laptops and computers are only a few that children can use.
Do you know as a parent it is vital that you know what your child is exposed to on the internet and here is one way that can help...
Hector is a dolphin that stays in the corner of your desktop waiting to cover the screen if something pops up that your child is not happy seeing. He is a free download from the website think u know, a New Zealand based company that specialise in Internet safety. They work closely with CEOP which is the Child Exploitation & Online Protection agency. CEOP is a company that helps to keep all children safe on the internet and has links with Child Line. Please visit their website to find out more about them.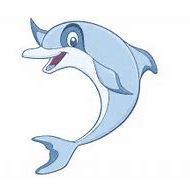 Below are some online safety links which you may find helpful.
CEOP Report Abuse Button (for reporting suspected abuse)
Thinkuknow - https://www.thinkuknow.co.uk
Childline - https://www.childline.org.uk
CEOP - https://www.ceop.police.uk/safety-centre
CBBC Stay Safe - http://www.bbc.co.uk/cbbc/curations/stay-safe
Common Sense Media - https://www.commonsensemedia.org/
Vodafone's support website - http://vodafonedigitalparenting.co.uk/
CEOP/ParentZone - http://parentinfo.org/page/for-schools
Parent Zone's Popjam (Instagram for children) - http://parentzone.org.uk/article/popjam
Online safety video resources for parents - https://www.gdst.net/parents/live-my-digital/online-safety-videos-resources
Did you know...
You can find help, advice and resources for online safety by visiting the below website?
CEOP – online safety resources
Hectors World Safety Button
Hector is a dolphin that can help children stay safe on the internet. He stays in the corner of the desktop waiting for you if you need him. If you see something you are not happy to see just click on him and he covers the whole screen to hide it. Tell your grown up about it and they will make a note of the website and hopefully set the filter level to a higher setting on your computer.
Please click here to install Hector

Childnet International
This is a non-profit organisation working with others to help make the internet a great and safe place for children.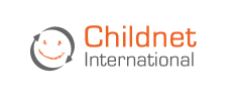 Click here to access Online Safety information.
Please see guidance below for how to access these resources.
The home page on Thinkuknow is: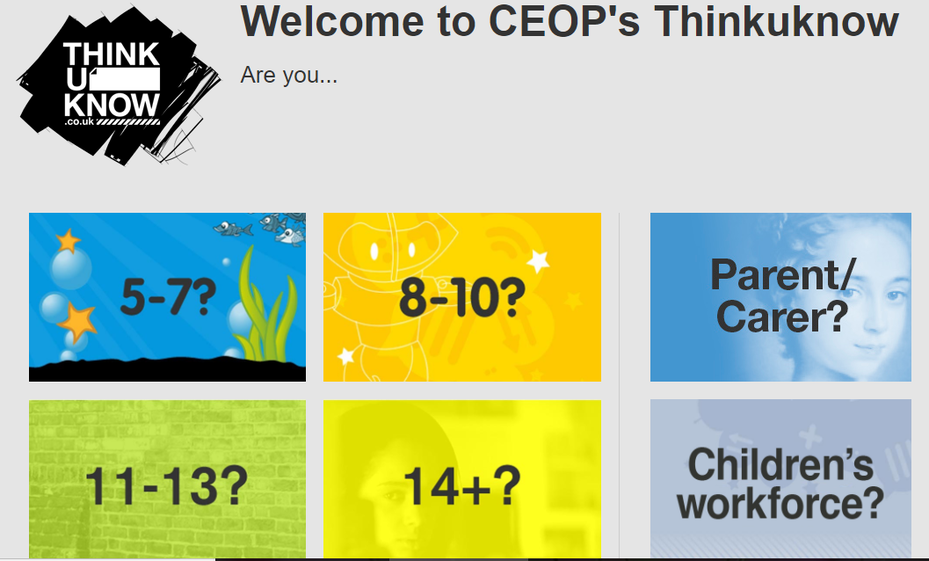 Click on 5-7 and the next screen will appear.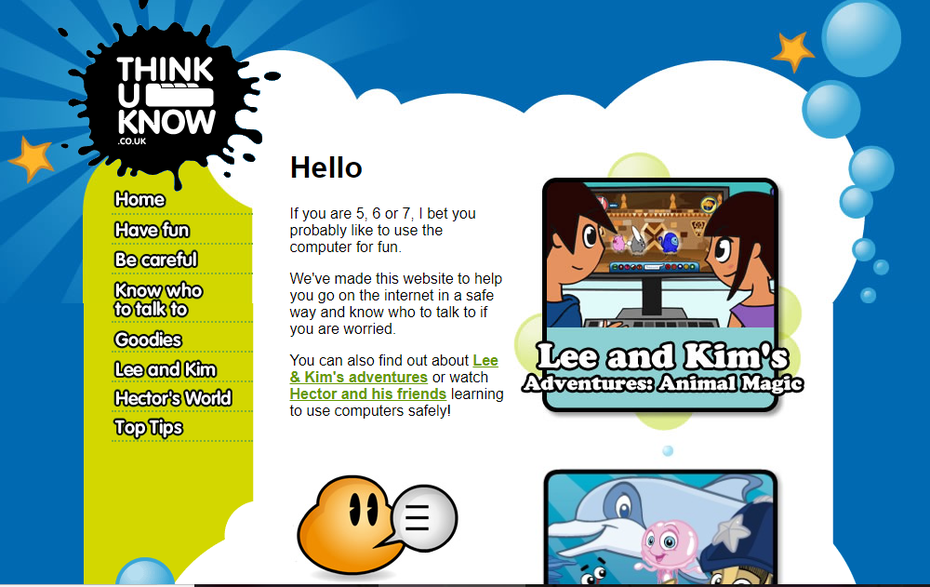 Now click on Top Tips and the next screen will appear.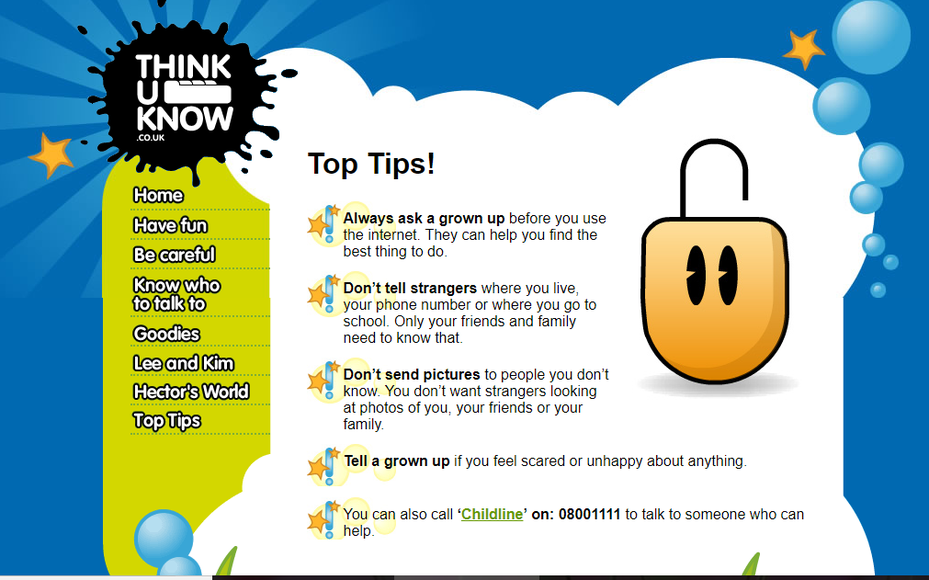 These are some really good tips for children.
Hector's World has the links for the games.