Parent Information
We know how busy you are as a parent! That's why we have created this page where you can access all relevant information for the coming weeks on one page. This page includes: important dates to add to the calendar, important events, any information we think you will find useful and the latest letters/newsletters.
We hope you find this page useful.
Please CLICK HERE to access very important information with regards to drowning.
We understand that mental health is a very sensitive subject for some individuals. Rethink Mental Illness are a charity organisation who are there for a chat, as and when you need it.
We urge you, if you require support in any shape or form for your mental health, please contact the emotional support line below.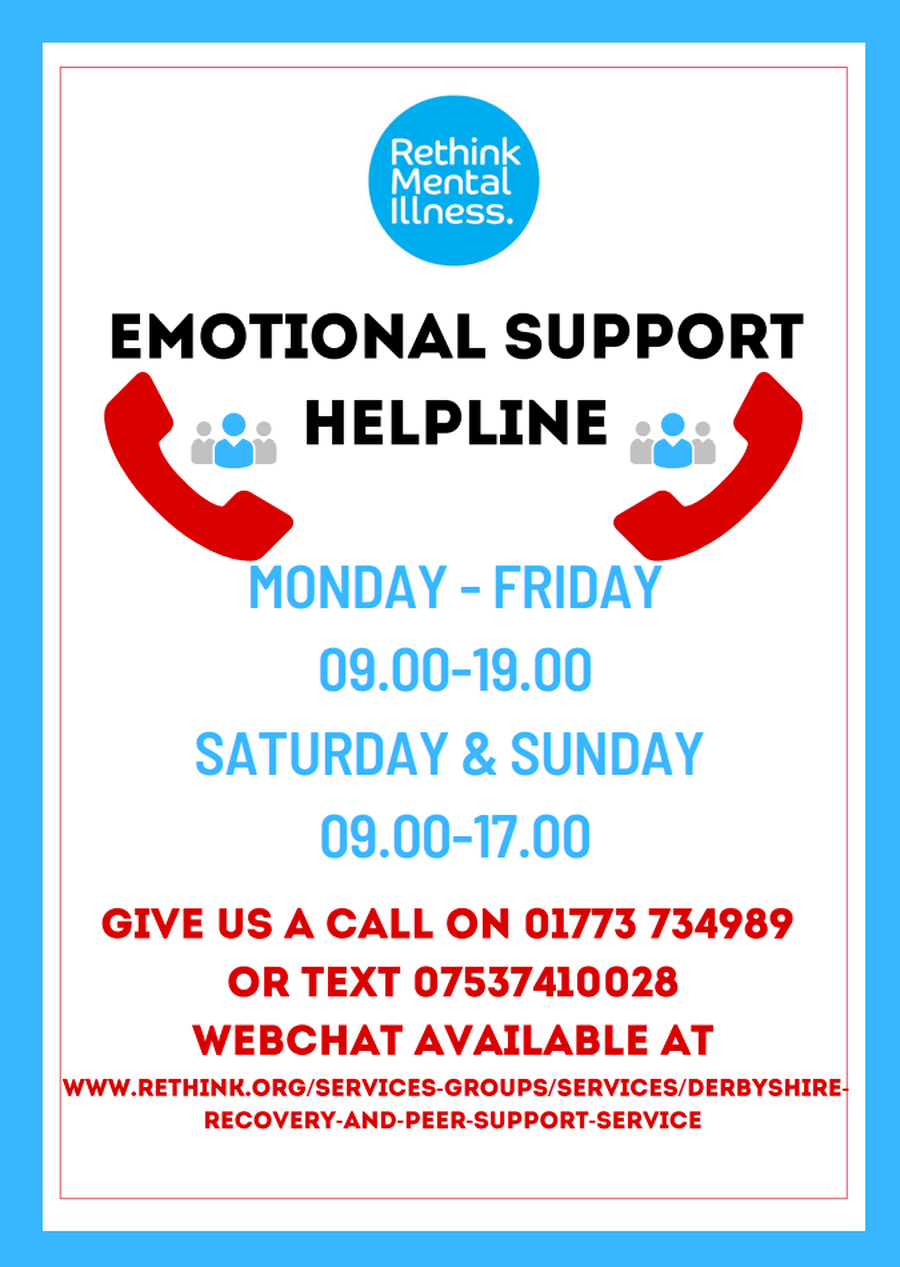 Please CLICK HERE for guidance on what to do regarding COVID-19 absences. It is very important you keep in correspondence with us and keep us updated, so we can support you and other members of our respective community.
Please CLICK HERE to see the letter from the Director of Public Health for Derbyshire.
PE Timetable
Reception: Monday & Friday
Year 1: Thursday & Friday
Year 2: Monday & Thursday
Please make sure your child attends school in their PE kit on their PE days.
Please see below, our school calendar. The calendar is updated each term with the upcoming events for the term. We also have a colour code system for the calendar:
Anything that is directly for Reception will be pink.
Anything that is directly for Year 1 will be orange.
Anything that is directly for Year 2 will be yellow.
Please see the rest of the colour coding below:
Whole School - Green
Blue - After School Clubs
Pale Blue - School Events, e.g. PFA meetings.
Turquoise, (light bright blue) - Inset days/ school holidays
Grey - School closures, (not organised closures).
Purple - Bank Holiday
Letters
Please click here for our latest newsletter.
Important Dates This Term
12.02.2021 - Break up for half-term.
22.02.2021 - INSET DAY.
23.02.2021 - Children back at school.
18.03.2021 - Year 2 Big on Bikes.
01.04.2021 - Last day before Easter Holidays.
19.04.2021 - Children back at school.
Other Links
Click here to read Amber Valley's COVID-19 community updates.
Click here if you are worried about a child's welfare during this pandemic.
Click here to see if you meet the criteria for Chances for Children.
Free School Meals
Do you think your child could be eligible for free school meals?
You can check by Emailing:
Or click here to apply online.
COVID-19 Arrangements
Please click here to view our back-to-school arrangements.
School Improvement Plan
Please click here, to have a look at our school improvement plan for 2020/2021.